DiaNAH Testbatterij
Beschikbaar via DigiDiag
Testbatterij voor het screenen van visuele perceptiestoornissen na niet-aangeboren hersenletsel (NAH).
Screenen in 30 – 45 minuten
De testbatterij bestaat uit 11 tests waarvan een aantal klassieke neuropsychologische tests die binnen Metrisquare gedigitaliseerd zijn, aangevuld met andere, nieuwe digitale tests.
Nieuwe set normen beschikbaar
Hoewel er nog aanvullende data verzameld en geanalyseerd worden, hebben de auteurs in 2018 een set nieuwe normen aangeleverd, die ingebouwd zijn in het Metrisquare platform en hier ook uitgebreid beschreven zijn.
Testbatterij gebaseerd op wetenschappelijk onderzoek
The DiaNAH Test Battery: a 30-minute screening to assess visual perceptual disorders after acquired brain injury
De Vries, S., Heutink, J., Melis-Dankers, B., Cornelissen, F., & Tucha, O. (2015).
Poster session presented at Joint meeting of the British Neuropsychological Society (BNS) and Dutch Neuropsychological Society (NVN), London, United Kingdom.
De DiaNAH-testbatterij: een screeningsinstrument voor visuele perceptiestoornissen
De Vries, S., Melis-Dankers, B., Cornelissen, F., Vrijling, A., Kistemaker, D., Tucha, O., & Heutink, J. (2018). 
Poster session presented at InZicht Ontmoetingsdag 2018, Ermelo, Netherlands.
Bekijk de wetenschappelijke poster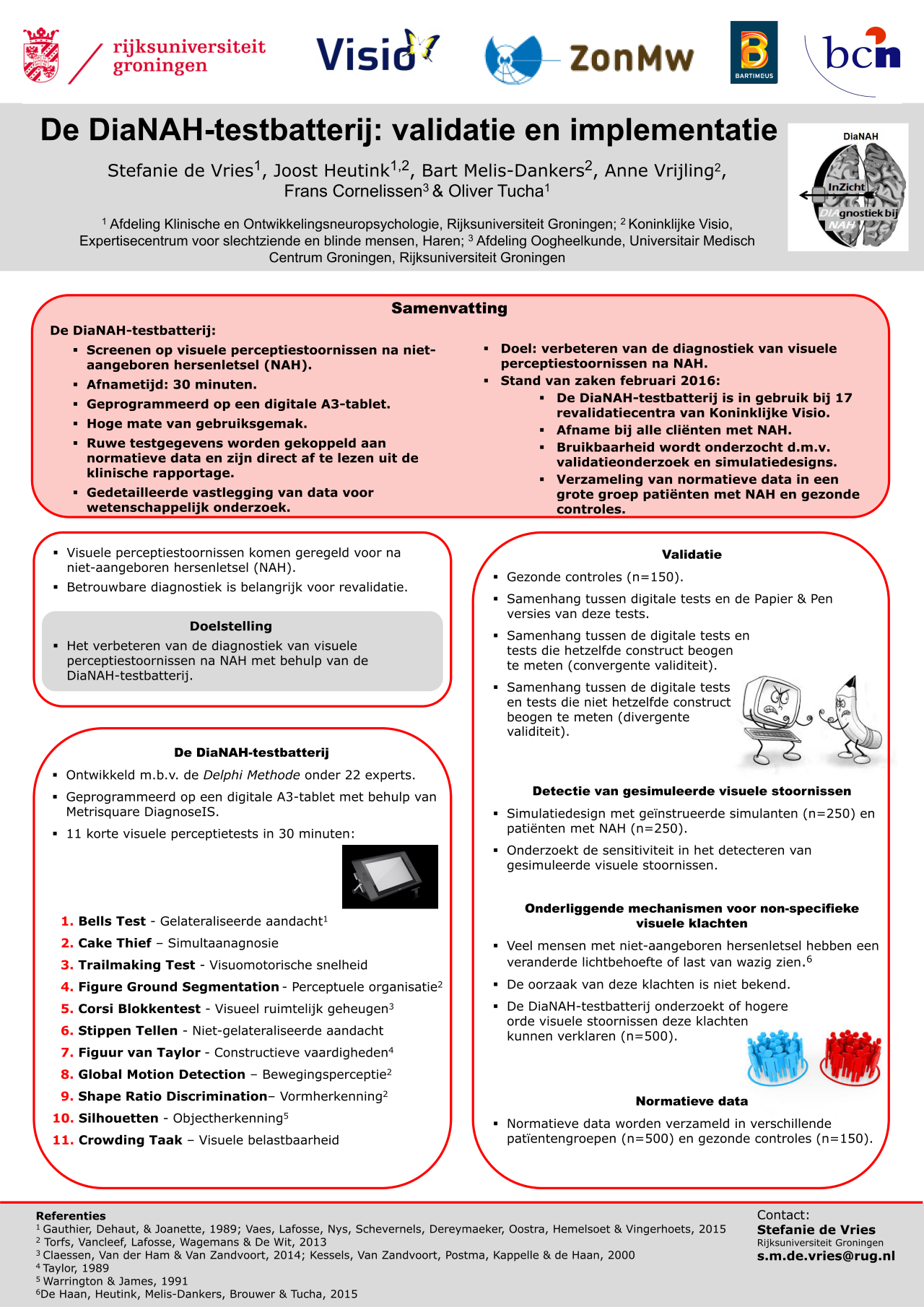 DiaNAH  Testbatterij
Via DigiDiag: Screenen op visuele perceptiestoornissen
Corsi Blocktapping
Visueel ruimtelijk geheugen
Claessen, Van der Ham & Zandvoort (2014), Kessels, Van Zandvoort, Postma, Kapelle & de Haan (2000)
Figure Ground Segmentation
Perceptuele organisatie
Torfs, Vancleef, Lafosse, Wagemans & De Wit (2013)
Shape Ratio Discrimination
Vormherkenning
Torfs, Vancleef, Lafosse, Wagemans & De Wit (2013)
Global Motion Detection
Bewegingsperceptie
Torfs, Vancleef, Lafosse, Wagemans & De Wit (2013)
Silhouetten
Objectherkenning
Warrington & James (1991)
Bells Cancellation Test
Gelateraliseerde aandacht
Gauthier, Dehaut & Joanette (1989), Vaes et al. (2015)
Taylor Complex Figure
Constructieve vaardigheden
Taylor (1989)
Dot Counting
Niet-gelateraliseerde aandacht
Testen op visuele perceptie
Binnen Metrisquare zijn er diverse opties voor het testen en screenen op visuele perceptie.
VNT testbatterij: Testen op visuospatieel neglect
DiaNAH testbatterij: in korte tijd screenen op visuele perceptie
RevArte Visual Search: meten van visuospatieel neglect
Meer informatie over tests voor visuele perceptie? 
Bekijk hier een overzicht van tests geschikt voor het testen op visuele perceptie.
Wij bieden digitale scoringsmogelijkheden voor paper-and-pencil tests via RSPscore. Bekijk testindex RSPscore
Snel en concreet digitaal tests afnemen via ons DigiDiag testsysteem.
Bekijk testindex DigiDiag
Leuven Perceptual Organization Screening Testbattery
(L-POST) Onderdeel van DiaNAH
Figure Ground Segmentation
Shape Ratio Discrimination (SRT)
Global Motion Detection (GMD)